SamCERA was founded on July 1, 1944 by the San Mateo County Board of Supervisors, and at that time we had less than 900 members. Now, 75 years later, we proudly serve over 12,000 dedicated public employees and their beneficiaries. Although many things have changed since 1944, one thing has remained constant: our commitment to providing our members with quality service and retirement security. We look forward to serving you for many years to come!
Important Dates to Remember for 
Service Purchases in 2020
Depending on your circumstances, you may be eligible to purchase service credit that can count toward your total years of service and may increase your retirement benefit. Military service, medical leave and extra-help hours are a few examples of time that might be eligible for purchase.
There are two periods of time to purchase service credit in 2020. Click the button below to learn about important deadlines in 2020 to make your service purchase.
Free Financial Planning Classes
Free financial planning classes start again in January for SamCERA members and their spouses/partners. Visit our website for a full listing of classes. Take hold of your financial future today & register for a class!
Registration is easy! Sign up in LMS or email njeong@samcera.org if you don't have access to LMS.
The 2019 Comprehensive Annual Financial Report (CAFR) is now available online, and we used this report as an opportunity to highlight our anniversary with a wide range of photos representing our membership and employers. 
As of June 30, 2019, SamCERA has a funded ratio of 85.8%, and over the past year we provided over $223 million in retirement benefits to retirees and their beneficiaries.  The CAFR is a great way to learn about the financial health of your retirement fund. Click the button below to see the full report.
Meet the Board of Retirement
On June 4, 2019 the Board of Supervisors reappointed Ben Bowler (Fifth Member) for a fourth term, and Kurt Hoefer (Ninth Member) for a second term, to the SamCERA Board of Retirement. 
In addition, the nomination period for the 2019 Board of Retirement election closed on May 6, 2019 at 5:00 p.m. Each incumbent ran unopposed and was therefore certified elected by the San Mateo County Elections Officer. Al David was reelected to the General Member Third Seat, Paul Hackleman was reelected to the Retired Member Eighth Seat, and Alma Salas was reelected to the Alternate Retired Member Seat. The next election will be held in 2021.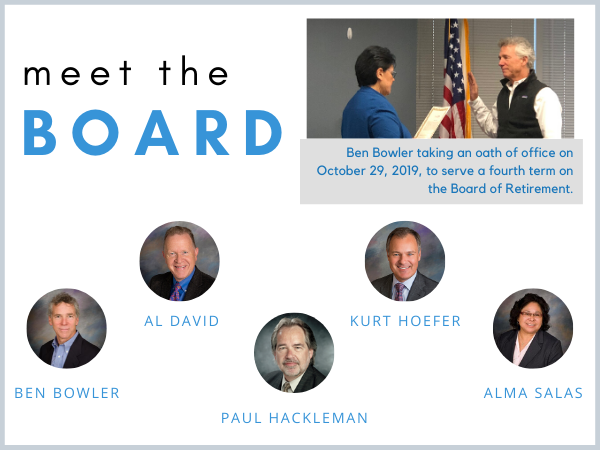 Are you thinking about retiring in 2020? Planning your retirement can be overwhelming, especially with all of the choices you have to make. SamCERA has resources to provide you with the information you need to make sure that you're on the right path! 
- New Year Reminder -
Do a Retirement Check-up in 3 Easy Steps!
As you start making your New Year resolutions for 2020, don't forget about checking your retirement account! In just a few minutes, you can perform a retirement check-up on your SamCERA retirement account on MySamCERA! Sign onto www.mysamcera.org to view your account and update your information
View your beneficiaries to verify that you've designated an appropriate beneficiary. If you've had a life change recently, such as the birth of a child or if you got married, make sure that your information is up to date with SamCERA! Making changes is as easy as filling out a form.      
Run retirement estimates to see how your retirement estimate might change when you use different retirement dates and benefit options. The final retirement estimate will show you possible payment amounts for different benefit options that are available when you retire.
Review your account and contact information to make sure that everything is correct. We obtain some information from your employer, but feel free to contact us if you have  questions or notice that any of your information is incorrect.      
Have questions about your account? We have dedicated Retirement Benefits Analysts available to answer your questions. Email us at samcera@samcera.org or give us a call at 650-599-1234.
Best wishes for a wonderful holiday and very happy New Year!

San Mateo County Employees' Retirement Association
Address: 100 Marine Parkway, Suite 125
Redwood City, CA 94065
650-599-1234
www.samcera.org
Have questions or comments about this newsletter?
Email them to njeong@samcera.org