The New MySamCERA Mobile App is here! What you need to know and how to get started
Available for iPhone and Android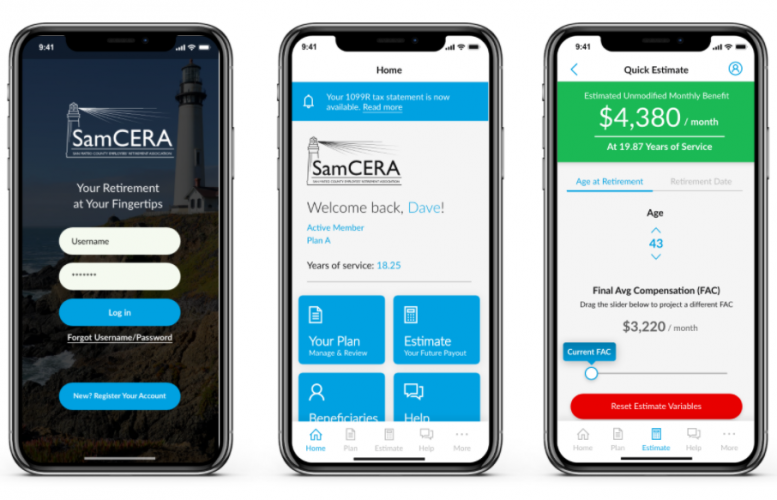 Today, we are thrilled to announce the launch of the new MySamCERA mobile app. Available for both iPhone and Android, the new app is designed to streamline your pension management and put your retirement details at your fingertips anywhere, anytime.
What you'll find in the new app
Based on your feedback, we've entirely re-imagined the online pension experience. Here are a few of the elements that we're most excited to share.
Effortless login and registration
Whether you're new to self-service or a pro, we've made the new login and registration process simple.
Your current username and password work right out of the box.
If you're a new user, our account registration wizard will have you up and running in minutes.
Forgot your username or password? No problem. The new username and password retrieval wizards make it simple to instantly retrieve your necessary details without ever reaching out to customer service.
Repeat logins are effortless. By integrating FaceID and TouchID on your device, login issues and forgotten passwords are now a thing of the past.
Easier, faster retirement estimates
Whether your moments away from retirement or just getting started with your long-term planning, our new estimators will make it a breeze to explore the future.
The new "Quick Estimate" tool makes it easy to crunch the basic numbers. Watch in real-time to see how a change in your retirement date or compensation can affect your bottom line down the road.
The new "Detailed Estimate" tool will give you insight into nearly any retirement scenario. Seamlessly factor in changes to your work schedule, service credit, projected salary, and more with just a couple of quick taps in the app.
All detailed estimates are automatically saved. Review previous estimates at any time and even share them with your SamCERA benefits specialist ahead of any planning meetings to ensure that your retirement plan is dialed in.
Paperless pension management
We're continually looking for ways to improve your experience through technology. These new tools will save you significant time and effort:
Our new DocuSign integration allows you to make essential changes to beneficiaries securely, without ever having to print or mail a form.
The new "Secure Document Upload" tool allows you to use your device's built-in camera to share important documents with our benefits team instantly.
Quick access to top requested pension details
We've paid particular attention to items that members and retirees frequently access and made sure they are always obvious and available. Here are just a few of the key details that you can access within the app:
In-app alerts for important news and updates (e.g., COLA, tax documentation, etc.)
1099 Tax Information At-a-Glance
Payment Dates and details
Member Statements
Reciprocity Management
Service Credit Management
Help is always just a tap away
The new app is designed to help you find the important answers in the format that suits you best. Here are a few of the tools that are always available:
Secure Messaging
Smart FAQs
Find a Class or Seminar
Call for Support
Your feedback matters
We're so excited about the launch of this new app, but we always want to keep our eye on the future and how we can serve you best. If you ever hit a snag or catch something we should know about, send us a note by clicking the (?) icon on the top, right of the app. We're here to help.
Need help?
For help with the mobile app or the MySamCERA website, you can call our office at (650) 599-1234 or email us at samcera@samcera.org.
Related Links