SamCERA Times
Winter 2017 Active Member Newsletter
Big news: in just a few weeks, you'll be able to access our all-new member self-service portal—MySamCERA! Read more about it below.
---
ARTICLES IN THIS ISSUE:
---
Coming Soon: MySamCERA
In just a few weeks, SamCERA will be launching MySamCERA—the all-new member self-service portal.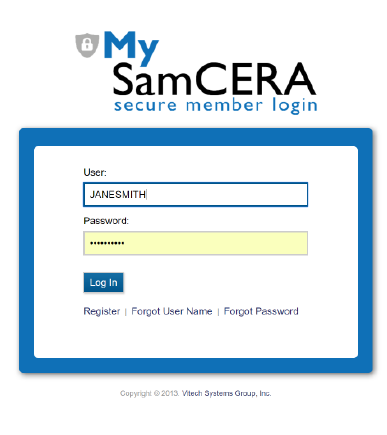 MySamCERA is a replacement for our aging Web Member Services. Web Member Services is part of a software system we've used to manage your pension benefits for more than two decades. And over the last four years, we've been working to replace that software with a new system called V3 from Vitech. Most of this new software will operate "behind the scenes" here at SamCERA, but you'll have access to MySamCERA as a window into your up-to-date retirement benefits.
MySamCERA not only looks different than Web Member Services, it has lots of new features, too. We'll send you an email when the site is ready for launch, but here's a sneak peek at some of the things you'll be able to do:
Check your account information for your service credit, contributions and interest
Get retirement benefit estimates
Print a current member statement (this is a summary of your contributions and interest)
Update contact information for your beneficiaries
Review documents in your member file, and upload new documents
Send and receive secure messages with SamCERA staff
If you've used our current Web Member Services, we think you'll find MySamCERA easy and intuitive to use. And if you've never used SamCERA's member self-service portal, this will be a great time to start!
As always, we're here to help. If you have any questions about self-service or anything else related to your retirement benefits, you can give us a call at (650) 599-1234, or email us at samcera@samcera.org.
Board of Retirement Special Election
There will be a special election in March for a recently vacated seat on the SamCERA Board of Retirement. Candidates for the open seat must be active general members (as opposed to probation or safety). The general member elected to the seat will serve the remaining term, which expires June 30, 2019.
If you are interested in the open board seat, you can read the Board election information page on the SamCERA website for more information. More information about general Board duties and responsibilities can be found on the Board of Retirement page.
Inside Your Pension Plan: SamCERA Recognized for Prudent Fund Management
SamCERA was again ranked the third most conservative among California retirement systems in a May 2016 survey from Roeder Financial, a firm specializing in pension and benefits analysis. The survey ranks California's public pension systems from "most conservative" to "most optimistic," on a scale of how they chart their financial future.
SamCERA's high ranking was due mainly to its commitment to addressing pension costs over a relatively short time span, and its relatively low assumed investment earnings rate. The earnings rate is the annual amount the fund is expected to earn over the long-term through its investments in stocks, bonds, real estate, and other segments of its portfolio.
At the time of the survey, SamCERA's earnings rate was 7.25%. Subsequent to the survey, the Board of Retirement lowered the earnings rate to 7.0%, which is among the lowest in California.
2016 Investment Returns
In sync with broader market trends, SamCERA's investment returns were largely flat last year. For the most recent fiscal year (which ended in June 2016), the fund returned 0.7%, after accounting for investment manager fees. While this was under our long-term average assumed rate of return, it was still above median for large (greater than $1 billion in assets) public retirement plans, and strong compared to SamCERA's peers. Over the most recent three-year period ended in June 2016, SamCERA's performance was in the upper 20th percentile of its peers.
Despite turbulence in the financial markets, SamCERA was still able to modestly increase its funded ratio by 0.5% to 83.1% on the year, primarily due to robust funding from employers and the recognition of deferred gains from prior years. The funded ratio is a snapshot of a retirement plan's overall health, which measures the money on hand to pay for future obligations like pensions and benefits. This was the seventh consecutive year SamCERA has increased its funded level.
SamCERA's Board of Retirement also took measures to strengthen its financial portfolio during the year. This was part of a long-term strategy as SamCERA continues to prepare for the certainty of a maturing membership in uncertain financial markets. (You can read more about this in SamCERA's Popular Annual Financial Report for 2016.)
So while the consensus forecast of financial experts calls for SamCERA to prepare for cloudy skies on the horizon, the silver lining is that sound decision making should help the fund weather any potential storms.
New Appointment to the Board of Retirement
In 2016, Michal Settles completed her term as the Board's 9th member.
To fill the vacancy, the San Mateo County Board of Supervisors appointed Kurt Hoefer (see photo). He is a partner at Golub Group, LLC. This is his first term on the Board.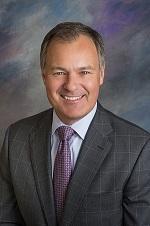 The current Board of Retirement officers are: Paul Hackleman (elected retiree member), Chair; Mark Battey (appointed by Board of Supervisors), Vice Chair; and Shirley Tourel (elected general member), Secretary.
The other members of the Board are: Sandie Arnott (San Mateo County Treasurer/Tax Collector), Eric Tashman (appointed by Board of Supervisors), Ben Bowler (appointed by Board of Supervisors), David Spinello (elected safety member), and Kurt Hoefer (appointed by Board of Supervisors). The alternate members are Susan Lee (elected safety alternate), and Alma Salas (elected retiree alternate). One general member seat is currently vacant, and a special election will be held in March to fill the seat.
For more information about the trustees, click here to visit the Board member page on the SamCERA website.
Learn More About SamCERA's Finances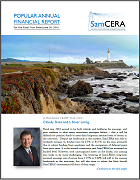 Our 2016 Popular Annual Financial Report is now available on the SamCERA website. This report is an 8-page profile of SamCERA's finances and investments. It's the "Reader's Digest" version of our Comprehensive Annual Financial Report.
Click here to open a PDF of the report.
Getting Ready to Retire?
We recommend everyone planning to retire within the year attend our pre-retirement "Ready to Retire" workshop. The next workshop is scheduled for Thursday, January 26, from 10am – 11:30 am.
The purpose of the workshop is to go over the retirement process and discuss other steps you should take before retirement. Workshops also feature a representative from the Benefits Division of the Human Resources Department, who will go over medical, dental and vision insurance information.
Attendance at the workshop is managed by SamCERA staff. You'll need to contact us directly in order to register.
To sign up for this workshop, email SamCERA, at samcera@samcera.org, to make your request. Please provide the date of the workshop you would like to attend. Additionally, please provide your target retirement date so we can prepare a retirement estimate for you.
SamCERA Office Holidays
SamCERA will be closed on the following dates in 2017:
Monday, January 2, 2017 (Day after New Year's)
Monday, January 16, 2017 (Martin Luther King, Jr. Day)
Monday, February 20, 2017 (Presidents' Day)
Monday, May 29, 2017 (Memorial Day)
Tuesday, July 4, 2017 (Independence Day)
Monday, September 4, 2017 (Labor Day)
Monday, October 9, 2017 (Columbus Day)
Thursday, November 24, 2017 (Thanksgiving Day)
Monday, December 25, 2017 (Christmas Day)
Additionally, SamCERA is closed on Fridays and weekends.
SamCERA's normal office hours are Monday – Thursday, 7 am to 6 pm.
Related Links